Advanced Modular Cooling System
Many years ago Caterpillar™ began to move their cooling system design and construction toward more modular type systems, one of the advantages of these new designs allowed for easier in-field servicing of equipment.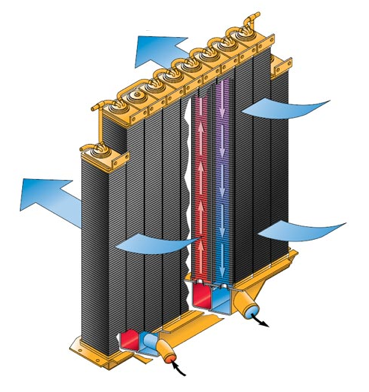 AMOCS radiators utilize a unique design and can be found on a variety of equipment including "R" series models. The key feature to this design is that it utilizes a two pass cooling system which effectively increases cooling surface area to provide greater cooling capacity over conventional one pass systems, this design is very effective in applications where there is a limited frontal surface area available.
The radiator itself is basically made up of a number of sectioned radiator elements and a sectioned main bottom tank. The two pass cooling system circulates coolant from the sectioned bottom tank, up through the front side of the radiator cooling elements, the coolant then flows down through the rear side of the sectioned cooling element returning to the bottom tank and then flows back via the water pump through the engine.
Often times with new cooling system designs there will also be new servicing considerations. Here we cover some of the considerations of the radiator unit only rather than the entire cooling system. Certainly there exist the usual checks some of which include:
Good unobstructed external airflow through the radiator
Solid bond between the radiator fin and tube
Internal plugging
Leakage
With this design also comes a unique consideration that we call "coolant bypass". Because this design utilizes a sectioned main bottom tank and sectioned cooling elements both of which employ rubber gaskets to maintain the seal, these gaskets can fail for a number of reasons including but not limited to (oil/diesel fuel contamination in cooling system, rubber seal deterioration, baffles coming loose and more) and need to be checked carefully for deterioration and coolant bypass. If the coolant is bypassing the seal through the sectioned bottom tank, then the coolant will return back to the engine without having moved through the radiator elements first, the coolant then effectively "bypasses" the radiator elements that provide the cooling, which can lead to serious overheating issues.

Because the radiator elements also have a baffle and rubber seal built into them to maintain the two pass flow, the gaskets and baffles also need to be inspected and tested for bypass values.
Sometimes when we receive these types of radiator elements we do not have the opportunity to test and inspect the sectioned main bottom tank, but in order to properly check for bypass problems that can lead to overheating conditions it is important to determine the "total bypass value" this is a value given to the total volume of coolant bypassing the radiator elements due to a combination of bypassing through the radiator elements and the sectioned main bottom tank, once everything is tested we arrive at a bypass value expressed in "gallons per minute".
As these systems age/fail the radiator elements begin to exceed allowable bypass values causing equipment to run hotter and hotter, left unchecked this could lead to expensive engine issues.


Features
We now have a very effective replacement product manufactured by Procore International Radiators available to address this issue, we have redesigned the radiator elements so that there is no baffle or gasket to fail, instead we us two separate tanks. This design is a very practical way around this very persistent problem, the radiator construction has also been changed to allow much easier servicing and dis-assembly during routine overhaul intervals. The radiator elements have been in use in Canada and the USA for years with extremely good reviews from many mines looking for permanent solutions to this very common problem.


A breakthrough, we have done away with conventional rubber sealed baffles, this completely soldered design eliminates the risk of equipment overheating due to bypassing, with all brass construction ALL of the coolant passes through the radiator core all of the time.
Factory assemblies of tank components are hand soldered with 40/60 solder allowing for full dis-assembly and serviceability unlike most other designs this unit is easily rodded out, reversible (some models) and headers can be rebuilt, providing you many years of service.

Heavy .090" reinforcement plates used on all headers top and bottom in conjunction with our exclusive deep drawn headers provides extra resistance to high vibration loads and stresses.


This innovative design coupled with tight component specifications and attention to hand assembly detail make this AMOCS radiator the best choice for your equipment, coolant bypassing is the number one cause of overheating due to failure of rubber gaskets used with the baffles, we have eliminated the rubber gaskets and use a conventional soldered tank/header design.
WE ARE SO CONFIDENT OF THIS DESIGN WE GUARANTEE NO COOLANT BYPASS IN OUR PRODUCTS
FOR THE LIFETIME OF THE RADIATOR

Every detail of this radiator was upgraded; all components meet or exceed OE standards, from our heavy wall welded seam tubing to full header reinforcement plates, no failures, no bypassing... no corners cut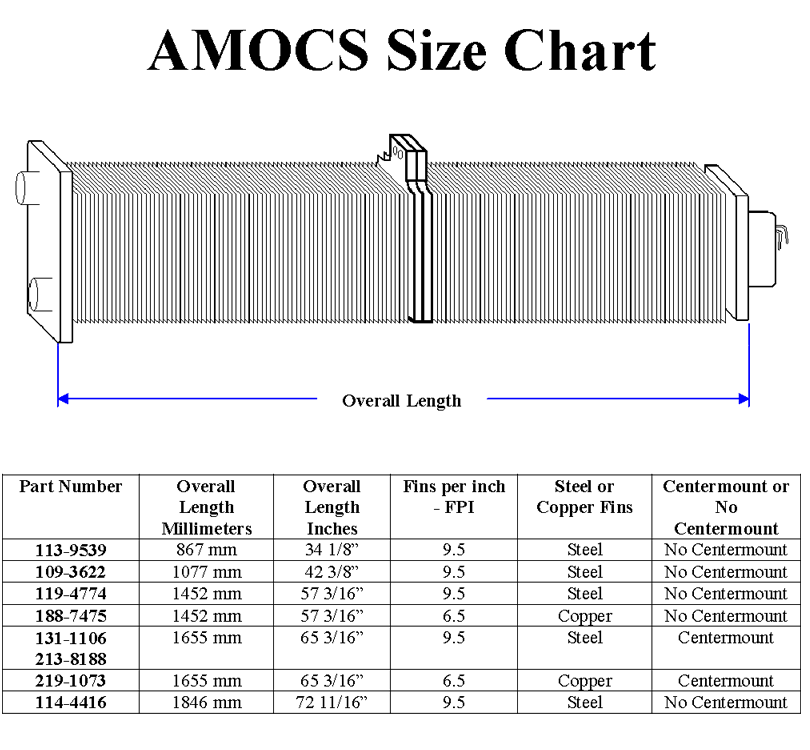 AMOCS Part Numbers:
113-9539
109-3622
119-4774
188-7475
131-1106
213-8188
219-1073
114-4416