VITON GROMMETS
After many years of grommet manufacturing we have added Viton (FKM) material as an grommet option. This material is made by Dupont and has been used in many manufacturing applications over the years.
Viton is known for it's proven heat resistance properties being able to handle 350-400 F on the high temperature end. This high temperature tolerance makes it a good choice for high temperature applications, such has high ambient temperature cooling systems and oil coolers.
Viton has good chemical resistance when it comes to oils-fuels and lubricants.
Viton also has good longevity, it will remain stable and functional for 4-6 years or more in cooling systems, this can effectively extend the rebuild intervals of radiators and therefore remain in service for extended periods, we are finding that some mining applications are now looking for this extended service to better match engine lifespan/rebuild cycles.
We started testing Viton in 2019 for fluid resistance and heat aging resistance and it has achieved impressive operating results.
We are confident that Viton will meet your tough jobs with successful results. These grommets are made to last longer and have a 2 year guarantee against material failure.
Part numbers:
VT-2663 Top grommet
VB-2665 Bottom grommet
MICON WATER GROMMETS
MICON WATER GROMMETS
---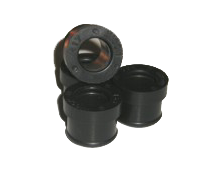 Micon Grommets™ are used worldwide wherever Mesabi™ type radiators are employed. Rebuild times are generally reduced by 30 to 50% due to compound formulation and physical engineering. Our exclusive time released lubrication system built right into the compound allows for easier installation and reduces "Bake on" problems associated with other compounds.


Specifications

Material
Highly Modified Nitrile
Built-in Lubrication System
Oil Resistant

Temperature Range

Service Life
3 years (approximately)
15,000 service hours

Application
For use in all water based
Mesabi™ type radiators.
*Not for use in oil coolers*

Quality Control
Constant attention to material durometer, dimensional specification and processing quality are maintained.