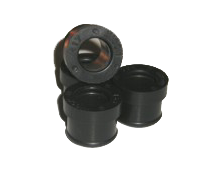 Micon Grommets™ are used worldwide wherever Mesabi™ type radiators are employed. Rebuild times are generally reduced by 30 to 50% due to compound formulation and physical engineering. Our exclusive time released lubrication system built right into the compound allows for easier installation and reduces "Bake on" problems associated with other compounds.


Specifications

Material
Highly Modified Nitrile
Built-in Lubrication System
Oil Resistant

Temperature Range

Service Life
3 years (approximately)
15,000 service hours

Application
For use in all water based
Mesabi™ type radiators.
*Not for use in oil coolers*

Quality Control
Constant attention to material durometer, dimensional specification and processing quality are maintained.